Richard Hasbell, 07-10-05
Mentally disabled man vanishes in Denali park

AVID HIKER: Registration shows he planned to be out by July 18; abandoned tent found near peak.

By DOUG O'HARRA, Anchorage Daily News

Published: August 11th, 2005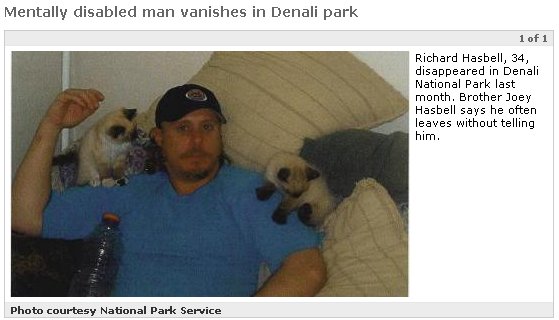 A shy, mentally disabled man who dealt with his illness by taking strenuous hikes and bike rides has disappeared into the backcountry of Denali National Park, baffling his brother in Anchorage and searchers in the field.

Richard Hasbell, 34, remained missing Wednesday despite an air and ground search of the rugged country near his abandoned campsite about five miles northeast of Wonder Lake, near the top of an unnamed 4,002-foot peak.

Hasbell began the trip July 10 without telling his brother but stating on his park registration form that he'd be out by July 18, according to the National Park Service. His tent was spotted Friday, and a search launched this week.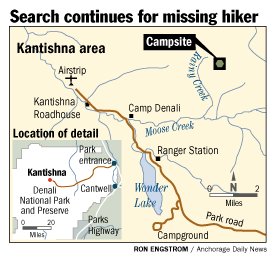 Both the trip and the disappearance alarmed his brother, who lives in the same apartment building off C Street south of the Delaney Park Strip. Though Hasbell would be out of touch for weeks at a time, he had never gone alone into the wilderness before, his brother Joey Hasbell said.

Park officials said it had been more than a decade since a backcountry traveler disappeared and triggered a major search.

Hasbell said he didn't realize his brother had left town until Park Service special agents contacted him. He never reported him missing because it was typical for him to go off.

"He didn't tell me anything," Joey Hasbell said. "I don't know if he had a breakdown and maybe went to a paranoid schizophrenic mood and tried to get away from society. But I know how he is. It doesn't really surprise me to know that he's gone."

Hasbell was last seen by family on July 4. How he traveled from Anchorage to the park is not clear. But park records showed that he applied for a backcountry permit and took the park shuttle bus to the Wonder Lake area on July 10.

His registration form stated that he would return eight days later.

On Friday, a pilot with Kantishna Air Taxi spotted a tent that appeared to be abandoned on the peak, according to park spokeswoman Kris Fister.

Park Service officials were responding to a fatal plane accident that day, but a check of backcountry records Saturday showed that Hasbell had registered for a trip into the area near the tent and had never returned his bear-resistant food canister as scheduled.

The 5,000 to 6,000 people who visit the park's backcountry each summer don't have to tell park officials when they leave, Fister said. Often they inadvertently take their bear canister with them, then later mail it back.

"We don't do any checking," she said.

People who venture off the road into wild country are urged to tell friends or family, who can then raise an alarm if they're overdue.

No one had reported Hasbell overdue. Rangers flew to the campsite on Monday, the next day when the helicopter was available, and confirmed that the tent color and bear canister matched Hasbell's permit, Fister said.

A search began Tuesday with a ground team and more aircraft. On Wednesday, an eight-person team began exploring drainages in the area. More people, including teams with trained search dogs, were expected to join the effort soon, Fister said.

What the rangers found at Hasbell's camp didn't help resolve the mystery. There was no sign the camp had been disturbed by bears or other animals, Fister said.

The tent was new, an inexpensive type sold by department stores, and the backpack was an older frame model, Fister said. The bear canister contained food that didn't need to be cooked, such as a jar of peanut butter and some bread. It had been used but wasn't depleted.

Rangers recovered a journal and were transcribing it Wednesday for clues into Hasbell's plans, Fister said. The last entry was dated July 17, but no other details were available.

In Anchorage, Park Service police and Joey Hasbell checked Richard's apartment, confirming that he had been gone for weeks.

All three pairs of his shoes were gone, Joey Hasbell said.

"His house is pretty much the way he left it, and he kept it clean," Joey Hasbell said. "I know something's not right, because his rent is due. He wouldn't neglect his rent payment."

Hasbell said his brother had suffered from schizophrenia for years, sometimes hearing voices and getting overcome with feelings of paranoia.

"He's in excellent shape," Joey Hasbell said. "Before he got his bicycle, he would take his other backpack and throw 50-pound dumbbells in there and walk all day, just keep moving."

Joey Hasbell said he was sharing such personal information in the hope that it will spur someone to share information that will help find his brother.

Hasbell said he also suffers from the same condition but keeps it under control with treatment. The two brothers grew up "all over," sons of migrant farm workers, he said.

Richard Hasbell hitchhiked to Alaska a dozen years ago, while Joey and his wife moved here about six years ago.

"He's a good person," Joey Hasbell said. "He's kind, he's religious. He likes to go fishing and hiking, and he loves the outdoors."

When his brother was around and felt up to company, he would sit with Joey's two cats.

"Those cats actually loved him," Joey Hasbell said. "When I open up the door, still they would go down to his door."

Daily News reporter Doug O'Harra can be reached at do'harra@adn.com .


---
Alaska Digest

Published: August 13th, 2005
DENALI NATIONAL PARK

Search for mentally disabled man grows, is aided by local businesses

The search for backpacker Richard Hasbell in the rugged Kantishna Hills of Denali National Park entered its fifth day Friday with no definite sign of the mentally disabled Anchorage man.

Eight teams of searchers, three with trained rescue dogs, scoured drainages, checked old buildings and followed logical routes Hasbell might have taken from his abandoned campsite, discovered Monday on a 4,002-foot unnamed peak northeast of Wonder Lake, said parks spokeswoman Kris Fister.

While searchers have found footprints or other indications of recent human use in the area, nothing has been linked to Hasbell. Up to 6,000 people travel into Denali's backcountry every summer.

"We're looking for a live person, but also anything smaller than a live person -- any other clues," Fister said.

Hasbell, 32, a physically fit man who suffers from a form of schizophrenia, embarked on an eight-day backcountry trip on July 10 without telling his family in Anchorage. His tent was seen Aug. 1 by a pilot, triggering a search that has grown all week.

About 50 people from the park and seven other groups or agencies were helping, Fister said. Denali Park businesses have donated meals, supplies, outdoor equipment, topographic maps and replacement parts for all-terrain vehicles.

-- Anchorage Daily News

---
Alaska digest

Published: August 15th, 2005

DENALI NATIONAL PARK

Search effort for backpacker is reduced after seven days

The National Park Service decided Sunday to scale back its search for missing backpacker Richard Hasbell after thoroughly scouring areas near his abandoned campsite.

Rescue workers continued searching Denali National Park on Sunday, the seventh day of the effort, but found no new information as to his whereabouts.

"We are saddened that we couldn't bring this search to a more successful end at this time," park superintendent Paul Anderson said in a written statement.

Boaters joined the effort Sunday, examining river drainages, where they found a disposable camera, a sock and footprints, but nothing could be linked to Hasbell as of Sunday night.

Others expanded the mission beyond its original search zone to check cabins that might have provided food and shelter for Hasbell, park spokeswoman Kris Fister said. Cabins will continue to be checked to the park boundary today.

Hasbell, a 36-year-old mentally disabled man, dealt with his illness by taking strenuous hikes and bike rides. He began his trip in the park July 10 and stated on his park registration that he'd be out by July 18, but he never returned. Park authorities spotted his abandoned camp Aug. 5, about five miles northeast of Wonder Lake.

-- Anchorage Daily News