Richard Huffman, 06-25-05
Katherine Huffman

Grizzly bear kills couple at ANWR campsite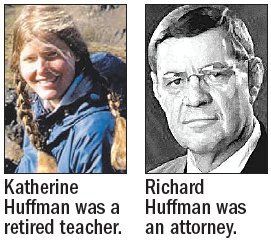 NEAR KAKTOVIK: The Anchorage rafters' food was properly stored, officials say.
By JEANNETTE J. LEE The Associated Press
Published: June 27th, 2005

Two people camping along the Hulahula River in the Arctic National Wildlife Refuge were killed by a grizzly bear, officials said Sunday.

Officials discovered the bodies and an unused firearm in a tent at a campsite near the river.

The couple, whose names were not released, were believed to be in their late 50s or early 60s, North Slope Borough police said. They were from Anchorage and had been on a recreational rafting trip down the river, Alaska State Troopers said.

The victims were in their tent when the attack occurred, according to troopers spokesman Tim DeSpain.

The campsite was clean, with food stored in bear-proof containers.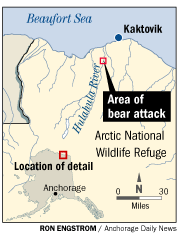 "The initial scene indicates that it was a predatory act by the bear," DeSpain said.

The bear was at the site Saturday night when public safety officials arrived. They shot and killed the animal but did not remove it.

A rafter had seen the animal at the site and notified authorities in Kaktovik.

The couple's injuries were consistent with a bear attack and there were no signs of foul play, said Kelly Alzaharna, a lieutenant with the North Slope Borough Police Department.

There were no other people at the campsite, which was about 12 miles upriver from Kaktovik, a community of about 300 on Barter Island and the only village in the refuge.

Officials are not sure when the couple were killed.

The bear's height and weight are unknown because wildlife officials has not yet retrieved its remains, Alzaharna said. The refuge contains grizzly, polar and black bears.

Cathy Harms, a spokeswoman for the state Department of Fish and Game in Fairbanks, confirmed that the bear was a grizzly.

Fish and Game officials were alerted at 4 a.m. Sunday, Harms said. Wildlife officials were taking the bear carcass to Fairbanks on Sunday for a necropsy, which would confirm whether the bear had attacked the couple, Harms said.

Alaska State Troopers are retrieving the bodies from the campsite. Authorities said they would release the victims' names after contacting family members.

The Hulahula River begins at the end of a glacier in the Romanzof Mountains at the eastern end of the Brooks Range. It flows west and north about 100 miles to Camden Bay in the Beaufort Sea east of Barter Island.

The river is popular for wildlife viewing, rafting and kayaking.

---

Victims of bear attack were wilderness vets

THE HUFFMANS: Longtime local lawyer and teacher had taken every precaution.

By TOM KIZZIA Anchorage Daily News

Published: June 28th, 2005

An Anchorage attorney and his retired schoolteacher wife, both cautious veterans of the Alaska wilderness, were identified Monday as the victims of a rare, unprovoked attack by a predatory grizzly bear in the Arctic National Wildlife Refuge, state and local officials said.

Richard and Katherine Huffman were killed over the weekend in their tent while camping along the Hulahula River near the end of a two-week wilderness float trip by inflatable kayak. Alaska Department of Fish and Game officials who investigated the scene said the Huffmans appeared to have set up camp carefully, storing their food in bear-proof containers far from their tent.

"All the indications now are it was a predatory attack. It just hardly ever happens," Fish and Game spokesman Bruce Bartley said. "Even more baffling is that these people had taken all the precautions."

A gun was found in the camp, troopers said. It had not been fired.

The 300-pound bear attacked the campers in their sleeping bags and tore at their bodies but did not devour them, officials said. The grizzly was tracked and killed by North Slope Borough Search and Rescue officials who flew by helicopter to the scene from Barrow.

The bear's body is being taken to Fairbanks for a necropsy but showed no obvious signs of illness, injury or starvation that might account for the attack, Bartley said.

"It was apparently a healthy male, 5 to 7 years old, which adds to the mystery and improbability," he said.

The ransacked campsite was first spotted Saturday afternoon by someone passing in a river raft, according to North Slope police. The passer-by, a resident of Kaktovik, 12 miles downstream from the site, tried to approach the camp but was chased away by the bear. He reported the scene to police in Kaktovik.

The attack occurred in the heart of the refuge's coastal plain, a tundra region coveted by the oil industry for its oil potential and by environmentalists for its wilderness values. The Hulahula runs from the Romanzof Mountains north across the coastal plain to the Beaufort Sea. Kaktovik, an Inupiat village of about 300 residents, is the only community in the area.

With Congress poised to make a decision about oil drilling in the area, the refuge has seen an increase in visitor inquiries, said Richard Voss, the refuge manager for the U.S. Fish and Wildlife Service. He couldn't say whether there was an increase in wilderness travel because independent travelers like the Huffmans are not required to get permits. Last year, 60 to 100 people, including hunters, floated the Hulahula, he said.

In Alaska, about six people a year are injured by bear attacks, Bartley said. Two-thirds of them are hunters who surprise bears in the wilderness. Every other year, on average, somebody is killed, usually by a brown bear, he said. Usually the bear is defending itself after being surprised or is protecting its young or a fresh kill.

That's really not much, Bartley said, considering there are people all over Alaska's bear habitat, along with 35,000 brown bears and three times as many black bears.

"If bears wanted to eat you, they would. We'd lose one a day," he said.

On the other hand, hundreds of bears are killed every year by people defending life or property, Bartley said. Such killings always increase after a widely publicized killing by a bear, he said.

"Quite frankly, there'll be a spike after this," he said.

Bartley could remember very few unprovoked fatal attacks by bears in Alaska -- one on a camper in Hyder in Southeast in the 1990s, another on a solo kayaker in Glacier Bay in the 1980s. A child was killed by a brown bear in King Cove a decade ago, though in that case people fleeing into nearby brush may have triggered a chase response, he said.

A special case could be made for bear advocate Timothy Treadwell, whose body was devoured along with that of his girlfriend after they camped extensively in the midst of brown bears and heavily used game trails on the Alaska Peninsula. Treadwell's unconventional approach was often criticized by biologists.

"Everything that he did wrong, these folks did right," Bartley said.

A Fish and Game wildlife biologist, Cathie Harms, said the campsite was "a model of how to do it right." She said the ultra-cautious biologist who investigated the ravaged camp concluded "this one is as clear-cut as he's seen of a predatious attack."

The Huffmans were so careful with bears that they customarily stopped one place to cook and eat dinner, then floated on to a different site to camp, said Veronica Galvan, whose sister is married to one of three Huffman children. The Huffmans went on a three-week wilderness float trip last summer, Galvan said.

Richard Huffman, 61, was a lawyer who has worked in Anchorage for electric and telephone utilities since 1975. He served as a captain in the U.S. Army Judge Advocate General Corps and worked two years for the Anchorage municipality before going into private practice.

According to his law firm, Kemppel, Huffman and Ellis, Huffman received his bachelor's and law degrees at the University of Kansas.

A partner, Don Ellis, said Huffman had been making long camping trips for several years. He declined to say more Monday.

Katherine Huffman was a long-time teacher for the Anchorage School District. She had a long history of camping and backpacking and was married for a time to wildlife photographer and Mount McKinley climber Johnny Johnson.

"She was real savvy, a real smart woodsperson," said a friend, Steve Hagedorn, who accompanied her on a 55-mile backpack trip in Denali National Park in the 1970s.

She brought that love of nature to the classroom, said Carol Comeau, Anchorage schools superintendent, who co-taught second grade with Huffman at Ocean View Elementary in the mid-1970s.

"She had high expectations for discipline and respect. But the kids had a great time," Comeau said Monday. "They spent a lot of time outdoors doing winter activities. She just loved the outdoors."

Huffman later taught at Birchwood and Lake Otis elementary schools. She retired in 2002 but continued to substitute.

The Huffmans were married in 1989. Richard Huffman had three children by a previous marriage. The children were on their way to Alaska on Monday.

"It's just sad," Comeau said. "I've been thinking about her all day, remembering. It's just an absolute Alaskan tragedy."

Reporter Katie Pesznecker contributed to this story. Reporter Tom Kizzia can be reached at tkizzia@adn.com or in Homer at 907-235-4244.