Jerry Humphrey, 05-11-05
Terry Humphrey

Brothers killed on McKinley
CLIMBERS: Middle-aged twins fall to deaths on descent from summit.
By DOUG O'HARRA and MEGAN HOLLAND Anchorage Daily News
Published: May 12th, 2005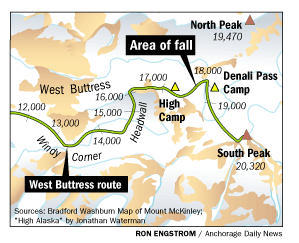 Middle-aged twin brothers from Ohio died while descending an upper section of Mount McKinley late Tuesday or early Wednesday, after falling unroped 1,000 feet down the treacherous slope beneath Denali Pass.

Jerry and Terry Humphrey, 55, were found dead at the 17,300-foot level by a guided climbing party shortly before noon Wednesday, according to a spokeswoman for Denali National Park and Preserve.

The two men had reported by cell phone Tuesday night that they reached the summit of the 20,320-foot mountain, a Park Service spokeswoman said. They were the first people to die on North America's highest peak in 2005.

The brothers were late-blooming climbers, a steelworker and railroad man who owned an auto salvage shop together in Negley, Ohio. They had been training to climb Mount Everest for years and were on their second trip to McKinley, according to people in their home town.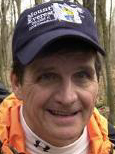 The inseparable identical twins loved mountaineering and took the sport seriously, said friends and family reached Wednesday evening.

"Terry was the outgoing one; Jerry was laid back," said Bob Fair, the father-in-law of Terry's daughter.

"They were such experienced climbers, it is really surprising," said Terry's neighbor Paula Chadwick. She last saw the pair several weeks ago, walking around the hills near her house, big backpacks loaded down, training for McKinley.

"They were in very, very good shape," Fair said.

The bodies were ferried by high altitude helicopter to the base camp on the Kahiltna Glacier, then flown to Talkeetna on Wednesday afternoon.

The two men had spoken by cell phone about 10 p.m. Tuesday to Jerry's 25-year-old son, Jeremy, who was camping at the 14,400-foot level on his own solo climb of the mountain.

They told Jeremy they had reached the summit and were on their way down, moving past 18,600 feet, a few hundred feet above the pass, said Park Service spokeswoman Maureen McLaughlin. But one of the most dangerous sections on the mountain lay below them -- an icy traverse from Denali Pass to a small basin at 17,200 feet where most climbers make high camp. Since 1980, six people have fallen and died on that stretch.

Based on reports from climbers who helped secure the bodies for the helicopter, it appeared that the Humphreys may have fallen shortly after they began to descend across a crevasse with a vertical section, McLaughlin said.

"They would have been down-climbing," she said. "One brother falling might have taken the other brother as well."

Falling during the descent from Denali Pass often occurs during bad weather, when climbers have already exhausted themselves on daylong drives for the summit. But the conditions were clear that night, with slight winds, McLaughlin said.

Temperatures ranged from minus 45 degrees Fahrenheit to 20 above at the 14,400-foot ranger camp Tuesday, she said.

Details were still sketchy about how many climbers attempted to reach the summit Tuesday about the same time as the brothers. A guided party at high camp that night reported the brothers were overdue and later found the bodies.

A Lama helicopter contracted to the Park Service was sent to the area about 1 p.m. Pararescuers from the Alaska Air National Guard, who also happened to be on the mountain, secured the bodies to a long line off the helicopter. The bodies were then lifted from the ice and carried to the base camp, about eight miles away and 10,000 feet lower.

The brothers' bodies were then taken to Talkeetna by Talkeetna Air Taxi, McLaughlin said.

Jeremy Humphrey, Jerry's son, arrived in Talkeetna on Wednesday afternoon. Family members in Ohio were notified of the deaths.

The McKinley climbing season has been ramping up fast, with 222 people on the mountain Wednesday. Up to 1,200 mountaineers were expected to climb this season, most on the physically demanding West Buttress route.

Fatalities on McKinley have declined dramatically in recent years. From 1979 through 1998, 61 men and four women died climbing McKinley. But only two men died between 1999 and 2004. The sole fatality last season was a 47-year-old American who was killed by falling boulders.

The Humphrey brothers both raised their families in Negley, a small town in eastern Ohio. Terry worked at CSX railroad, Fair said, while Jerry worked at Allegheny Ludlum Stainless Steel.

They played together, raised their children together and spent free time together, in addition to owning a business together, Humpty-Dumpty's Auto Salvage, said friends and neighbors.

Jerry began climbing seriously about seven years ago and climbed Aconcagua, the highest mountain in South America, from December 2000 to January 2001, according a feature story in the Morning Journal in Lisbon, Ohio.

"I go for the experience," Jerry told the paper. "I am an adventurer."

As Jerry got into climbing, Terry naturally followed, Fair said.

Before he left for Alaska, Terry told his wife not to worry, Fair said. He told her, "If something happens to me, just remember that I'm doing what I want to do."

Daily News reporter Doug O'Harra can be reached at do'harra@adn.com. Daily News reporter Megan Holland can be reached at mrholland@adn.com.
-------------------------------------------------------------
Dangerous area has claimed eight climbers since 1980

MCKINLEY: Twin brothers were unroped when they fell from spot below Denali Pass.

By PETER PORCO Anchorage Daily News

Published: May 13th, 2005 Last Modified: May 13th, 2005 at 01:36 AM

The middle-aged twin brothers from Ohio killed this week below Denali Pass on Mount McKinley were victims of a notoriously dangerous slope on the mountain.

Jerry Humphrey and Terry Humphrey, who were 55, became the seventh and eighth persons to die from a fall at that spot going back to 1980, park statistics indicate.

The route below 18,200-foot Denali Pass is not the deadliest place on McKinley. That dishonor belongs to the Upper West Rib, on the southwest side of the mountain, where 16 people have died since 1972, including 15 climbers who fell to their deaths.

But the moderately sloped ice and snow of Denali Pass, high on the peak along the heavily used West Buttress route, is by far the most common place to fall, according to McKinley guides and the mountaineering rangers at Denali National Park.

Since the 1960s, when climbers began flocking to the West Buttress by the hundreds, there have been more than 100 documented falls below the pass, the park's South District Ranger, Daryl Miller, said Thursday from his office in Talkeetna.

The Humphrey twins lost their footing sometime late Tuesday or early Wednesday, according to the National Park Service. No one saw them fall. Their bodies were spotted about 1,000 feet below the pass about noon Wednesday by a McKinley guide from another climbing party.

About 10 p.m. Tuesday, Jerry used a mobile phone to call his 25-year-old son, Jeremy, who was camping at the 14,200-foot basin on the West Buttress route. Jeremy Humphrey was planning a solo climb.

His father and uncle had reached the 20,320-foot summit and were on their way down, 400 feet above the pass, they told Jeremy during the phone call. They were not heard from again.

Why the men fell remains a mystery, Miller said. But what's known is that the brothers, who were making their second attempt on McKinley (Jerry summitted in 2004 but not Terry), were unroped when they fell, he said.

"Who knows what goes on with people?" Miller wondered regarding the brothers' decision to climb unroped on Tuesday. "Sometimes they're confident, they're moving quicker. You can move more quickly without a rope."

The route from the 17,200-foot-high camp to Denali Pass is about three-fourths of a mile. The last several hundred feet are sloped generally 40-45 degrees. This year, said Miller, the ice and snow about 200 feet below the pass have made a portion of the slope vertical and more dangerous.

The guide who discovered their bodies believed the brothers were trying to down-climb that tricky bit in the dusk when they got into trouble, Miller said.

Climbing down is more difficult than up, mountaineers say. Seven of the eight people who have died below Denali Pass and all 15 of those killed by falls on the Upper West Rib were on their descent at the time, according to the Park Service.

Summit day is the longest and most demanding day of a McKinley climb. And on the descent, focus can wane.

"You use more energy going up," said Paul Denkewalter, an Anchorage gear-shop owner who climbed McKinley with his dad and another man in 1971. "I think the biggest thing may be the let-down. It's over, you've made the summit, 'Yee-hah!'"

Denkewalter fell a short distance below Denali Pass on that climb when his dad, leading the rope of three, slipped.

"He pulled me off," Denkewalter said. "I was tired, we were tired, blotto, coming down after a long day. ... You're on autopilot, your guard's down, you're going home, it's great, let's get out of Dodge."

He and his father slid on the ice a short distance before their other partner, last man on the rope, used his ice axe and boot to stop the fall, Denkewalter said.

Nick Parker of Anchorage, who guided climbers on McKinley for more than 20 years, said he went to the aid of many who tumbled down the slope below the pass.

"That's a common accident," Parker said. "It's steeper than it looks, it's harder than it looks and you're tired."

A rope linking climbers to one another is not enough by itself to prevent falls, Parker said. If a climber stumbles or slips and begins to slide, he may yank his partners off the slope as well, if none of them can arrest the fall.

"You need to have running belays," Parker said, referring to a particular safety method. "If you space your pro (protection devices) adequately, everybody (on the rope) will be able to clip in. The rope team will be clipping into different parts of the pro as they move down. ... We used to put pro in there all the time."

In 2003, rangers sunk about a dozen pickets, or climbing-protection stakes, into the snow at intervals along the route traversing the slope below the pass to allow climbers to use the running belay.

"In 100 percent (of the Denali Pass casualties), there's not one where they're roped, with running protection and using ice axes," said Colby Coombs, who's in his 20th year as an Alaska Range guide, including a dozen years on McKinley.

Rangers speculated that the Humphreys might have been situated one above the other at the vertical section about 200 feet below the pass when the accident occurred. When one fell, he perhaps knocked the other off his feet. They ended up at the bottom close by, indicating they fell from near the same spot not far below the pass, according to Miller.

The brothers' bodies were flown Wednesday to Talkeetna, where a Palmer funeral home took them for the family, Miller said. They were expected to be flown back to Ohio, where Jeremy Humphrey flew Wednesday, he said.

The Humphrey twins were the 94th and 95th people to die on McKinley since 1932.

A total of 244 climbers were on the mountain as of late Thursday afternoon, the Park Service said.

Daily News reporter Peter Porco can be reached at pporco@adn.com or 257-4582.