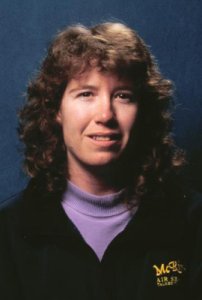 Keli Mahoney
Carolyn Disselbrett
Bruce Andrews
Mark Wagoner
Four die in air taxi crash
Talkeetna pilot was ferrying 2 climbers, passenger to McKinley area
By TATABOLINE BRANT, ZAZ HOLLANDER and CRAIG MEDRED, Daily News reporters, May 29, 2003

An air taxi ferrying two mountain climbers and a sightseer crashed in the Alaska Range near Mount McKinley on Wednesday, killing all three passengers and the pilot, the National Park Service said.

The plane, a Cessna 185, was operated by McKinley Air Service of Talkeetna, authorities said.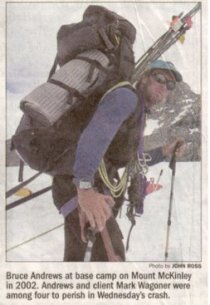 The pilot was Keli Mahoney, co-owner of the company and an Iditarod musher.

Mahoney was flying two climbers into the Kahiltna base camp, along with scenic passenger Carolyn Disselbrett of Salem, Ore. The two climbers were identified by the park service as Alaska Mountaineering School guide Bruce Andrews, 39, of Lafayette, Colo., and AMS client Mark Wagoner, 31 of Snow Camp, N.C. The two mountaineers were intending to climb the Sultana Ridge of Mount Foraker, the park service reported.

Authorities said the plane left Talkeetna about 12:50 p.m. and crashed between 2 and 3 p.m. Another Talkeetna-based air taxi spotted the wreckage shortly thereafter, said Park Service spokeswoman Jane Tranel.

The wreckage was located in a glaciated area south of 14,573-foot Mount Hunter, known as South Hunter Pass, inside Denali National Park and Preserve. Pilots routinely fly over the pass to get to Kahiltna Glacier base camp, the starting point for the hundreds of climbers each summer who try to summit McKinley, North America's tallest peak. The area sees lots of summer flightseeing traffic as well.

Skies were relatively clear, and there was no radio communication between the plane and the base camp indicating a problem, Park Service spokesman John Quinley said.

The crash site was at approximately 8,200 feet. The Park Service sent rangers to the site Wednesday afternoon in a specially designed high-altitude helicopter and confirmed that all four people on board the Cessna were dead, Tranel said.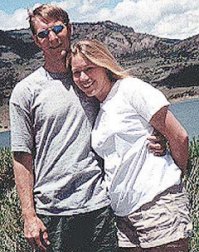 The cause of the crash wasn't immediately known. An investigator with the National Transportation Safety Board arrived at the site around 7 p.m, said Quinley. The plan was to use the helicopter to move the bodies by nightfall to the Kahiltna base camp and then transport them from there on a plane to Talkeetna, he said.

Three summers ago, an air taxi broke apart in midair south of Mount McKinley, killing well-known Talkeetna pilot and musher Don Bowers and three park service rangers.

The mood in Talkeetna Wednesday was "pretty emotional," Quinley said. "We knew Keli, knew the mountaineering guide."

Bruce Andrews has been a climbing guide and teacher for 14 years, according to his biography on the Alaska Mountaineering School Web site. He has worked for Outward Bound and Colorado Mountain School, among other places, and has led high-altitude expeditions all over the world.

The crash comes in the heart of the McKinley climbing season. A quiet, snow-blanketed, Bush-like community for nine months of the year, Talkeetna throbs with activity for the other three months as the tourism business sprouts to life for the short summer. Particularly in May and June, the air strip on the edge of town is a buzz of light airplane traffic on any given day as a handful of air taxis keep busy hauling climbers, sightseers, National Park Service officials and supplies to and from the Kahiltna base camp at 7,200 feet on a glacier sprawling off the southwest side of 20,320-foot Mount McKinley.

McKinley Air Service is one of seven services authorized to land on glaciers on the south side of McKinley.

Mahoney, 35, started flying while still a high school student in Quincy, Mass., according to her Iditarod biography. She had her pilot's license by the age of 17, and by the time she turned 21 she'd found a job as a commercial pilot on a TWA commuter shuttle. But she fled the East Coast for adventure in Alaska in 1991.

She flew Bush planes out of Bethel for two years before settling in Talkeetna. She and LeeAnn Wetzel started McKinley Air Service in 1995. The slogan on their brochure: "Two Babes and a Bird." Like the other Talkeetna air taxis, the business focused on ferrying climbers to and from the Kahiltna base camp and taking tourists on scenic flights around North America's tallest peak.

"McKinley Air Service is the only women-started air service and one of only a handful operated by women in the world," their Web site says.

Mahoney was a conservative pilot who knew the Alaska Range, said her longtime friend Annie Duquette, who used to work for McKinley Air Service and also was a manager at Kahiltna base camp for 10 years.

Mahoney had not had an accident in the Alaska Range before Wednesday, according to her company's Web site.

When Mahoney wasn't busy flying, she was busy working with dogs, a second passion. She ran the Iditarod in 1997 and finished 30th. A second attempt in 1998 did not end as well when she was forced to scratch.

She had in recent years turned her attention to the wilder, less-publicized Yukon Quest International Sled Dog Race between Fairbanks and Whitehorse, Yukon.

Duquette said her husband was on the helicopter that went to the crash site Wednesday. She said there was no indication that the plane skidded down, but that it apparently came in "pretty hard." There were some reports of wind, she said.

"Our gut feeling is something must have happened," Duquette said. "Keli's too good of a pilot. Unless it was a huge wind shear, she can maneuver herself in anything. Something drastic must of happened for her to go in like that."

Mahoney was the only pilot for McKinley Air Service. Duquette said she was with Wetzel at her home when the call came in that there had been a crash. "LeeAnn walked in and had this look on her face," she said. At first no one knew for sure if there were fatalities.

Wetzel and Duquette didn't want to wait around to find out. They drove over to McKinley Air Service at the airport right away, Duquette said.

"You could just tell by people's faces; nobody wanted to tell you anything," she said.

Wetzel sat Wednesday evening on the steps of her business, surrounded by friends. She said she was not yet ready to talk about the accident.

Daily News reporters Tataboline Brant and Craig Medred reported this story from Anchorage; Zaz Hollander was in Talkeetna. They can be reached at tabrant@adn.com, zhollander@adn.com and cmedred@adn.com.




Crash's cause elusive
MCKINLEY: Investigation into fatal plunge could take months.

By ZAZ HOLLANDER, Anchorage Daily News, May 30, 2003

A federal investigator Thursday spent a second day at the site of an air taxi crash in the Alaska Range near Mount McKinley that killed the pilot and three passengers.

But no clues emerged in the early stages of an investigation that likely will continue for months.

National Transportation Safety Board investigator Clint Johnson said he saw no immediate signs to explain what happened.

"Nothing that stood out," he said.

The plane, a Cessna 185, crashed Wednesday afternoon at an elevation of about 8,200 feet. Johnson said the wreckage is on a slightly sloping expanse of glacier topped by a foot of fresh snow 300 to 400 yards short of the summit of South Hunter Pass, near 14,573-foot Mount Hunter.

It came in at a low angle, nose first, and wedged five or six feet into the snow with its wings bent forward, Johnson said by phone from Talkeetna late Thursday afternoon.

He stayed in the town Thursday night to interview other air taxi pilots about weather conditions in the pass Wednesday.

Johnson plans to reassemble the plane once it's plucked off the pass and transported either to Big Lake or Anchorage.

The entire investigation could take six to nine months, according to Johnson's supervisor, Alaska NTSB regional director Georgia Snyder.

Pilot Keli Mahoney left Talkeetna just before 1 p.m. Wednesday, ferrying her three passengers to the Kahiltna base camp via the pass. A passing air taxi spotted the wreckage between 2 and 3 p.m. A high-altitude rescue helicopter in the area landed and confirmed the worst: the pilot, the man in the seat next to her, and the man and woman in back were all dead.

Two planes brought the four bodies down to Talkeetna around 10:30 p.m. Wednesday, National Park Service spokesman John Quinley said. Those of the three passengers were taken to Valley Funeral Home. Mahoney's body was sent to the Medical Examiner's office in Anchorage, standard procedure for a pilot after a crash.

Thursday, friends and family members across the country took stock of the lives lost.

Everybody in the plane shared a love for adventure and the outdoors, friends and relatives said.

Mahoney, 35, the pilot and an Iditarod and Yukon Quest dog musher, founded McKinley Air Service in 1995 with partner LeeAnn Wetzel.

Mahoney's memorial service is planned for Monday night at Talkeetna Elementary School, said Annie Duquette, a friend. Mahoney's family is coming up from Massachusetts.

The phone at McKinley Air has been ringing off the hook with calls of support, Duquette said.

"People that flew with her on scenics are calling, people that met her on vacation. I am amazed."

Mountaineering guide Bruce Andrews and client Mark Wagoner were headed to Sultana Ridge, a challenging climb known for its privacy compared with the popular West Buttress route on McKinley.

Andrews, 39, led high-altitude expeditions around the United States and the world, to South America, Africa, Nepal and Tibet. He had led trips on McKinley and Aconcagua in the Andes for Alaska Mountaineering School in Talkeetna, according to the school's Web site.

Andrews lit up a room with his big smile and presence and was the kind of person who lifted everybody else up with his attitude, said Mike Alkaitis, executive director of the American Mountain Guides Association in Colorado.

"He loved sharing the mountain experience; that was his passion," Alkaitis said. "He truly loved being there."

Alkaitis on Wednesday broke the news in person to Andrews' wife, Ann Marie, who is expecting a child, he said.

Wagoner, 31, booked the trip as a celebratory adventure before settling into a new job and a new marriage, said Lori Shoffner, a cousin who lives in Wagoner's hometown of Snow Camp, N.C.

His wedding was scheduled for July 5. He graduated from Duke University with a master's degree in business this year and lined up a job with a consulting firm starting this fall, relatives said.

Wagoner had climbed in Alaska before, Shoffner said, along with leading expeditions with a North Carolina program that included a trip up Washington's Mount Rainier.

Wagoner and his fiancee planned to go house hunting in Atlanta as soon as he got back from Alaska, said Janice Shoffner, his aunt.

"He's had an incredible life of adventure and ... so much in store for him," she said. "He had found the love of his life."

Carolyn Disselbrett, a state jobs coordinator from Oregon, was visiting Alaska for the first time to see her son David, an Anchorage resident who bought his mom the flightseeing trip as a gift at 7:30 a.m. Wednesday morning. Carolyn was due to fly home to Salem, Ore. early Thursday morning. It was the end of a full trip.

Disselbrett, started fly-fishing with a group of women in Oregon about a year ago, caught halibut and salmon at Deep Creek, canoed Kenai Lake and did an overnight on the Kenai River. Back in Anchorage, Carolyn toured Portage Glacier.

Wednesday morning, David and his mother picked McKinley Air Services because of their slogan, "Two Babes and a Bird."

"It was the trip of a lifetime. No regrets there," he said.

Reporter Zaz Hollander can be reached at zhollander@adn.com.




Helicopter to remove wreckage of Cessna
Daily News staff, May 31, 2003

Investigators are waiting for a private commercial helicopter to remove the wreckage of a Cessna 185 that crashed in the Alaska Range near Mount McKinley on Wednesday, killing pilot Keli Mahoney, two climbers and a flightseer. Crews spent Friday digging the wreckage of the plane out of the hard-packed snow of South Hunter Pass, said Clint Johnson, an investigator with the National Transportation Safety Board in Anchorage.

Weather permitting, the helicopter will carry the wreckage to either Wasilla or Anchorage, where Johnson will reassemble it with help from private air safety investigators from Cessna and Teledyne Continental Motors, the company that made the plane's engine.

The plane crashed and broke into several pieces short of the pass, Mahoney's intended route to Kahiltna base camp on McKinley, Johnson said. He said that air taxi pilots he interviewed in Talkeetna on Thursday told him nothing significant about weather conditions on Wednesday.

"There was a little turbulence, a little wind in the area, but keep in mind, that's normal for operations at that altitude in the park."

Johnson said he expects to complete his report in six months.