Reka Mishakoff

Snowmachine, truck collide; woman killedr
ADN March 9, 2002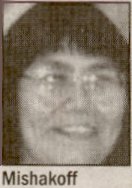 A Tyonek woman was killed Friday when the snowmachine she was riding collided with a truck on Point MacKenzie Road south of Wasilla, Alaska State Troopers said.

Reka Mishakoff, 48, was pronounced dead at the scene after the snowmachine she was riding was hit by a Dodge 350 pickup about 2:30 p.m. in front of the Point MacKenzie General Store at Mile 7, troopers said.

Troopers were still investigating but said it appeared Mishakoff was headed east on the side of the road and had slowed to turn into the parking lot of the store. She had waved the truck, which was behind her, to pass but then appeared to have accidentally hit the throttle causing the machine to jump out in front of the truck, troopers said.

Troopers could not immediately provide the name of the truck driver. Mishakoff was not wearing a helmet, troopers said. She is the 15th person to die in a snowmachine-related accident in Alaska this winter.