Niel Nielsen, 01-19-06
James Hester
Search continues for 2 missing near Iliamna Lake since Thursday

FOUR-WHEELER: Pair traveling between villages hit 60-below wind chills.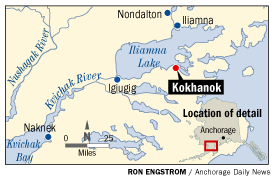 By ALEX DEMARBAN
Anchorage Daily News, Published: January 24, 2006

Search teams have been combing the frozen rivers and cabins around Iliamna Lake for three days, looking for a man and a boy who left a nearby village in fierce winds and bitter cold.

Niel Nielsen, 25, and James Hester, 13, of Kokhanok, have not been seen since leaving the village about 4 p.m. Thursday.

They were riding a red Honda four-wheeler and headed west toward the village of Igiugig, said trooper Moose Sims of the Dillingham post.

The two friends may have had insufficient winter gear for the ferocious weekend storm that brought 40 mph gusts and dropped wind chills to 60 below, Sims said.

The ambient temperature yesterday had risen to about 10 degrees below zero, but temperatures remained far below zero over the weekend, Sims said. He said it's impossible to gauge their chances of survival.

"One report said they didn't have clothes, another said they had sleeping bags," he said. "I don't venture to guess."

Igiugig is about 40 miles west of Kokhanok.

Nearly a dozen searchers from the two villages, located on the south side of Iliamna Lake, began searching trails and cabins Friday with four-wheelers and snowmachines.

"We been worrying, worry, worry, worry," said Hester's grandmother, Annie Mike.

The Alaska Air National Guard searched the lake region Friday in a C-130 aircraft. State troopers also have chartered commercial craft to assist in the air search, Sims said.

Why Nielsen and Hester left the village is a mystery, Sims said. Ground teams found Honda four-wheeler tracks headed toward Big Mountain between the two villages. A pair of matching gloves found on the ground reportedly belonged to Nielsen, Sims said.

The four-wheeler tracks headed to the edge of Iliamna Lake, but searchers were prevented from following the tracks by thin, cracking ice, Sims said.

Troopers also couldn't find a trail on the lake surface from the air because of blowing snow, he added.

"It's unclear if they went off across the ice," Sims said.

Cold weather and low visibility prevented air searches Saturday, but the searches resumed Sunday and continued Monday.

Daily News reporter Alex DeMarban can be reached at ademarban@adn.com.

---
Alaska digest, Published: January 26, 2006

KOKHANOK

Body of man on four-wheeling trip found in ice 20 miles from village

A 25-year-old Kokhanok man missing since last week was found dead of exposure in ice about 20 miles from his village Thursday, Alaska State Troopers said.

Searchers plan to recover the body of Niel Nielsen today, troopers said.

There was still no sign of his 13-year-old friend James Hester or the four-wheeler they were traveling on from their village to Igiugig, about 40 miles away.

Nielsen and Hester had not been seen since they left Kokhanok on Jan. 19. Kokhanok, population 165, is on the south shore of Iliamna Lake, 90 miles northeast of King Salmon. Temperatures, with wind chills, in the area over the weekend dropped to 60 below zero.

Troopers had suspended their search Thursday morning because of severe weather and determined the pair had not likely survived, spokesman Greg Wilkinson said. Volunteer searchers from Kokhanok in the afternoon found Nielsen's body about 120 feet from shore. He was about halfway between his village and Igiugig, Wilkinson said.

Wilkinson said the search for Hester would intensify today.

-- Anchorage Daily News


---

Alaska digest
Published: February 15, 2006

KOKHANOK

Boy's body found in Illiamna Lake

The body of a 13-year-old Kokhanok boy missing for a month was found Monday at the bottom of Illiamna Lake, Alaska State Troopers said.

James Hester was located under the ice and in nearly 80 feet of water, troopers said.

His remains were found about 30 feet away from where searchers found the body of his four-wheeling partner, Niel Nielsen, 25, on Jan. 26.

An underwater camera found Hester.

Hester and Nielsen left on Jan. 19 on their four-wheeler traveling from their village to Igiugig, about 40 miles away. They encountered severe weather.

Kokhanok, population 180, is on the south shore of Iliamna Lake, 90 miles northeast of King Salmon.

-- Anchorage Daily News