Michele Potkin 4/8/2000

Skiers caught in Talkeetna slide ID'd
ADN 4/10/2000

Two people caught in an avalanche near Talkeetna on Saturday afternoon have been identified by Alaska State Troopers.

Michele Potkin, 44, of Anchorage died after falling 200 feet off a cliff while caught in the slide. Joseph Kluberton, 18, of Talkeetna fell alongside Potkin. He was treated and released Sunday morning from Providence Alaska Medical Center.

Troopers said Potkin was telemark skiing and Kluberton had been snowboarding on Show Shoe Peak, 20 miles southeast of Talkeetna. Witnesses said the avalanche sent the two tumbling over the cliff's edge.

Potkin was in the area as part of a group participating in an Alaska Mountaineering School course on wilderness medicine. But the accident occurred outside the class, troopers said.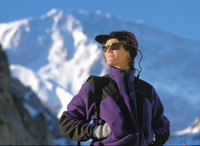 Mountaineer killed in fall cherished nature, adventure
By Molly Brown
ADN 4/14/00

Michele Potkin, who died after an avalanche swept her off a 200-foot cliff Saturday, was at home in the mountains.
Her friends said she had simplified her life over the years and found solace and peace of mind in the outdoors. She had a spiritual connection with nature, said Diane Okonek, who had know her since college.
On Saturday, Potkin, an avid mountain climber, was telemark skiing at Snow Shoe Peak near Talkeetna with seven other people.

The group was enjoying late-season snow and a day off from an Alaska Mountaineering School class held in Talkeetna, said Caitlin Palmer, one of the instructors. The Wilderness First Responder class focused on treating injured people in the backcountry, she said.

"We were just out having fun," said Joe Kluberton, 18, who lives in Talkeetna. "I was just kind of showing them the area and stuff."

They dug a snow pit and determined that the snow was stable. Kluberton estimated the slope that avalanched was about a 37-degree incline.

Kluberton had snowboarded about 80 feet down, then hiked back up to do it again. That's when he and a few other people noticed that the snow was less stable farther down, he said.

As Kluberton hiked back up, Potkin, who was making tight turns on her way down, stopped. "And everything just started to move," Kluberton said.

The top layer of snow, about 2 feet thick, moved slowly at first but sent Potkin moving. One of her skis hit Kluberton in the head, and the two rolled down and over the cliff.

The rest is a blur, Kluberton said. He was hurt badly enough to be airlifted to an Anchorage hospital but was later released.

The force of Potkin's fall was so great that an aluminum coffee thermos she carried in her backpack was crushed, he said. Eventually, despite the group's medical attention and emergency shelter in a snow cave, Potkin's injuries took her life.

Potkin, 43, lived in Talkeetna and was known by most as the sole Alaskan to participate in the Climb Against the Odds breast cancer awareness McKinley expedition in 1998. Though she did not have the disease, Potkin joined the group to support survivors and raise awareness.

"She was part of what I call the adventure community," said David Luce, a friend and business partner.

Potkin worked for the U.S. Forest Service as a plant ecologist for many years but recently graduated from the Barbara Brennan School of Healing, said Diane Okonek, a close friend. The school trains people from all over the world in a form of hands-on healing, working on the human energy field or aura.

"She's been climbing ever since I've known her," Okonek said. "The breast cancer climb combined her interests in the mountains and healing."

Potkin climbed peaks in Alaska, Argentina, Ecuador and Switzerland, she said. She was an active member of a local mountaineering club and a mountain rescue group.

"She had a passion for the environment and the natural world," said Rob DeVelice, who was Potkin's supervisor when she worked in the Forest Service. DeVelice said over the past few days, he's noticed the knickknacks around his house that Potkin gave him. The ostrich feather duster his family uses to dust off their computer, the wooden spoons Potkin brought his family from her travels in Africa.
Potkin had planned another McKinley expedition in May, Okonek said. She was hoping to reach the summit, friends said, something she hadn't accomplished in two previous attempts.

While Potkin climbed some of the world's steepest peaks, she wasn't the type who took unnecessary risks, said Jeanmarie Crumb, one of her best friends.

"She just loved being in the mountains," Crumb said. "As soon as we got into the woods, she said, 'Now I feel calm.' "

A memorial service will be at 7 p.m. April 22 at Inner Dance Studio in Spenard.