Bart Schleyer, 09-14-04

Mystery surrounds outdoorsman's death
EATEN: All that remain of Valley biologist are a few fragments of bone.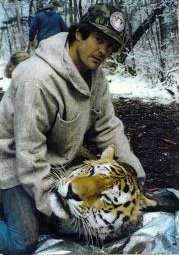 By CRAIG MEDRED
Anchorage Daily News


(Published: October 24, 2004)

No one will ever know for certain what happened to former Palmer resident Bart Schleyer. His last contact with another human was when a chartered floatplane left him at the larger of the Reid Lakes in Canada's Yukon Territory on Sept. 14. When the plane returned two weeks later, the experienced woodsman was gone.

The Royal Canadian Mounted Police promptly launched a search. It found nothing. The RCMP left.

Across the great white silence of the Yukon and Alaska, there is a rich history of people wandering into the wilderness never to return. Thirty-five-year-old Texan Carl McCunn flew into a remote valley in the Brooks Range in 1981 with a dream of camping out for the summer photographing the wilderness.

A diary found near his frozen body in February 1982 detailed how the plane that was to retrieve him failed to show in August. McCunn spent the fall watching and enjoying the wildlife that could have provided food. Eventually, he began to starve. His diary detailed his deteriorating physical and mental condition until he finally shot himself in the head.

Alaska State Troopers found his body lying on a homemade bed in a wall tent. He was not the last to end up that way.

Author Jon Krakauer a decade later made his name with a book about a lost hiker titled "Into the Wild.'' It detailed the disappearance of a troubled young man named Chris McCandless, or Alex Supertramp as he liked to call himself. McCandless' remains were found in 1992 under a sleeping bag in a deserted school bus along an equally deserted road that skirts the north edge of Denali National Park and Preserve.

Krakauer theorized McCandless had been incapacitated by eating a poisonous plant. The theory was later refuted. No one knows how McCandless, who left a far more fractured diary than McCunn, came to starve to death in the bus.

And last year there was the disappearance of author, filmmaker and minor-league California celebrity Timothy Treadwell, along with his girlfriend, Amy Huguenard. They, too, failed to meet a charter plane come to haul them back to civilization. In that case, however, the pilot soon discovered that Treadwell, who had a fixation for getting up close and personal with grizzly bears, had apparently been killed and eaten by one of those bears.

The sounds on a pictureless videotape in a camera left running in Treadwell's camp later confirmed that a bear had killed and largely eaten both him and Huguenard.

Schleyer, like Treadwell, had spent a lot of time around grizzly bears, but he was no self-professed "bear whisperer'' prone to get down on all fours and sing to them.

He was a trained scientist, who worked for the Grizzly Bear Recovery Project in Yellowstone National Park in the 1980s before moving north to Alaska.

He supported himself here by working part-time for a Wasilla taxidermist, doing some big-game guiding and spending months across the Bering Sea in Russia working to help save endangered Siberian tigers. Schleyer was one of the world's foremost experts at capturing, radio-collaring and tracking the big cats.

A MODERN-DAY DANIEL BOONE

It was dangerous work, and he loved it. On occasion, when the tigers were out hunting at night, he was among the scientists who would venture into their dens to weigh and assess the health of kittens while others tracked radio-collars monitoring the movements of the hugely protective parents. Were the parents to return to their den to find humans inside, the odds were high that it could prove deadly for the people. Friends say Schleyer had more than one good scare when the radio-trackers temporarily lost contact with their quarry. He laughed it off as part of the thrill of the job. When Schleyer wasn't trying to help save endangered species, he was often hunting the plentiful species, including Alaska brown and grizzly bears. He did it with a traditional bow and the arrows he made himself. It was a life as close to the land as man can get in the 21st century. It was a very conscious choice on Schleyer's part. Where others opted for jobs and security, said Susitna Valley friend John Hechtel, a biologist for the Alaska Department of Fish and Game and a respected authority on grizzly bears, Schleyer opted for wilderness adventure. Schleyer consciously avoided jobs with the potential to chain him to a desk. The son of a respected Cheyenne, Wyo., doctor who'd started his son hunting in North America and Africa as a pre-teen, Schleyer calculated his life so that he could spend as much time as possible in the field.

He was nothing so much as a modern-day Daniel Boone. "Bart was one of the best outdoorsmen I've ever met,'' said Maurice Hornocker, head of the Hornocker Wildlife Institute in Moscow, Idaho, and the organizer of the "Save the Tiger Fund'' at the National Fish and Wildlife Foundation.

When this modern-day mountain man went missing at Reid Lakes, his friends -- both in Canada and the United States -- knew something was wrong. They knew Schleyer was no average yokel in over his head on a wilderness jaunt.

Schleyer knew how to handle himself in country. He knew how to live off the land. He knew so much about survival he could have written a book on the subject.

He once amazed Big Lake 9-year-old Kenny Stockard, showing him how it really was possible to start a fire with only two sticks.

Schleyer was experienced. He was smart. He was fit. And he was notoriously tough.

"If he'd been out and broke his leg,'' said friend Dan Cooper of Wasilla, "he would have splinted it and probably hunted moose on his way back to camp.''

MISSING IN THE YUKON

Reid Lakes sit in the taiga on the south slope of the Selwyn Mountains about 175 miles north of Whitehorse, the most populous community in Canada's little-populated Yukon. The nearest human habitation is Stewart Crossing, a wide spot on the road from Whitehorse to Dawson. Stewart is 15 tough miles to the west of the lakes.

Once a trading post and a stop on Canada's overland stage route, it is today little more than a gas station and a recreational-vehicle park. To arrange a charter flight to Reid Lakes for a moose hunt, Schleyer had to go 44 miles back down the Klondike Highway to Pelly Crossing.

He was well-equipped for a north-country adventure. Three plastic "Action Packer'' crates held his gear. One was for food, much of it canned; another for clothing, and a third for camp gear.

Schleyer had enough to eat for a couple weeks, a good tent, a warm sleeping bag, plenty of gear and an inflatable boat he planned to use for getting around on the larger of the Reid Lakes. He went to work quickly after the plane landed him there. The tent was pitched and the boat inflated.

What happened after that gets increasingly speculative.

It appears, according to RCMP investigators, that he had lunch or supper in camp. The remains of one meal were found there. The rest of his food was still in the container in which it had been transported to the lake.

It is obvious, too, that he got in the boat and paddled it about a half mile down the lake from camp. That's where the Mounties found it when they came back to investigate after Schleyer was reported missing Sept. 30.

Along the brush shore of the lake, the boat was tied off securely at both ends, said Brigitte Parker, a spokeswoman for the RCMP in Whitehorse.

"It was really thick brush or swamp (behind),'' she added. "There's no sort of beach front.''

Mounties searching for Schleyer found the boat and the camp. They spent a little time searching, but found nothing else and left. Officials later told the Whitehorse Daily Star that the weather was deteriorating, and they decided to consult on a search plan before expanding their efforts.

They thought there was a possibility Schleyer might have hiked out to the highway. It was a possibility that merited consideration. Schleyer was certainly in shape to do that, but friends were confident that if he did, he'd surely call someone to let them know.

GORY CLUES

"Dib Williams, a friend of Schleyer's in Whitehorse, didn't much like the limited response of the RCMP and recruited pilot friend Wayne Curry of Pelly Crossing to fly him back to the site for a better look at the camp.

It didn't take them long to find where Schleyer had been. His tent had been knocked down, either by wind or animals, Curry said, but his gear was still all there. They searched the area around the tent and found a backpack. Sitting near it were Schleyer's bear spray, the VHF radio he carried to talk to aircraft and a knife.

Williams didn't like the look of that. He figured that if Schleyer had decided to try making the long hike out to the Klondike Highway, he'd have taken that gear with him.

As nightfall approached that day, Curry and Williams left, feeling that they had better return and investigate further.

"The second day,'' Curry said, "we started concentrating around the boat. That's when we ran across the bow.''

About 60 yards back in the woods from the boat, Schleyer's bow and arrows in a handmade buckskin quiver were leaned up against a tree next to a dry-bag full of gear on which he'd obviously been sitting.

"It still had a cradle in it like he was sitting on it and just got up, like a saddle,'' said David Fritz, a Susitna Valley friend of Schleyer's who has seen photos of the scene taken by the Mounties.

Curtis said the bag was on flat ground adjacent to a thicket of black spruce and willows. To Curtis, an experienced moose hunter, it looked like the sort of place an archer might set up if trying to call a moose into range.

"It was kind of on the edge of it,'' he said. "It was a little more open there. For sure he was calling (moose) from there.''

As the men broadened their search around the bow and the seat, they found a camouflage face mask with blood on it. They decided then it was time to call the Mounties back.

"His face mask had hair and blood on it,'' said Dan Foster, a friend and the Valley taxidermist for whom Schleyer sometimes worked.

On Oct. 3, about a dozen Mounties, Yukon conservation officers and civilian volunteers flew back to the area to begin a grid search. At first, Parker said, they found little but bear and wolf signs -- scat and tracks -- in the area. Then someone spotted a piece of clothing.

"One of our constables saw a ball cap, and that's what tipped them off,'' she said.

Further searching nearby turned up a pair of camouflage pants, a camera, part of a skull and a few bones.

"The bow was standing against a spruce tree,'' Parker said. "From there to where they found the bones, that was about 60 meters away.''

The teeth in the skull enabled authorities to identify the remains as those of Schleyer. There wasn't much more of his body found.

"There was quite a bit of grizzly scat around that area that they found,'' Curry added.

That immediately fueled speculation that Schleyer had been killed and eaten by a bear, as happened with Treadwell and Huggenard.

"It's rare,'' Curry said, "but it does happen.''

Yukon conservation officer Kevin Johnstone from Mayo collected samples of bear and wolf scat in the area. There are bone fragments in some of the samples, he said. They are to be sent out for analysis of whether the bone is human, he added.

Johnstone noted, however, that he found no bits of fabric in any of the samples. That baffles him a bit.

EATEN BY A GRIZZLY?

Bears are indiscriminate eaters. National Park Rangers who went to investigate the death of Treadwell last year shot and killed a bear that charged them at the scene. It was later confirmed to be the bear that ate Treadwell when a biologist doing a necropsy found not only human remains but significant amounts of Treadwell's clothing in the animal's stomach.

Johnstone found nothing in the scat at Reid Lakes to indicate the bears there had eaten any fabric, though most of the clothes Schleyer was presumed to be wearing were never found.

"We did find a pair of camo pants in the immediate area that appeared to be torn up,'' Johnstone said. "We didn't find any other clothing.''

Other things searchers didn't find also make Johnstone question the idea that a bear killed Schleyer.

"The (human) remains were found in a little patch of sparse spruce,'' he said. They were lying on the moss.

Bears usually bury their kills in what biologists call a cache. The remains of Treadwell and Huguenard were found in such a cache after they were killed along the Katmai coast last year.

Not only were Schleyer's bones not cached, Johnstone said there was no sign of a cache anywhere in the area.

Neither was there any sign of a struggle.

"I went through the whole area,'' he said. "I couldn't find anything. No broken branches. I couldn't find an area where the moss was disturbed.''

Friends of Schleyer say it is hard for them to imagine his being attacked by a bear and going down without a fight. Even if he started off playing dead, a recommended tactic for surviving a grizzly bear attack, they said, he would have known that if the animal pressed the attack the only chance for survival would be to fight back with anything at hand.

"He'd worked with bears for years in Montana,'' Hornocker said. "He understood them, and he knew them, and he was not one to press the envelope like that photographer (Treadwell).''

Kate Kendall, a former co-worker of Schleyer's on the grizzly bear study team and an investigator of several fatal maulings in Glacier National Park, said it's also hard to imagine a way in which Schleyer would end up killed by a bear with no signs of a struggle.

"I think the least likely scenario is some sort of surprise encounter,'' she said. "(But) it's hard for me to imagine having a bear sneak up and get him.''

Almost everyone who knew Schleyer -- fellow scientists, hunting buddies, clients he guided -- believe he was simply too good a woodsman, too alert while in the forest, to have a bear catch him by surprise. And if one had, Hechtel said, it's even harder to imagine the animal doing him in without leaving signs of a struggle on a site covered with soft, easily disturbed moss.

"Unless they're really lucky, bears don't kill fast,'' Hechtel said. "I think bears are eaters, not killers. They try to eat things.''

The audiotape of Treadwell's death was frightening evidence of that. Those who have listened to it say it goes on for a long time, recording the sounds of him being eaten alive.

Naturalists who have witnessed bear kills say this is the norm whether the bears are eating salmon or moose. Unlike the big cats, which kill before eating, bears start eating until their prey dies.

UNSOLVED MYSTERY

Johnstone said he looked for someplace near Reid Lakes where something like this might have happened, but found nothing.

"Things are not going together like they should,'' he said. "It's not characteristic of any sort of bear mauling site. It's inconclusive to how Mr. Schleyer may have died.''

That has raised all sorts of other possibilities:

• An attack by wolves, although such attacks are even more rare than bear attacks and again there is the lack of any physical evidence on the ground.

• A possible natural death with Schleyer's body later scavenged by bears, wolves, coyotes, foxes and birds.

Schleyer was 49. Hechtel noted he had a friend of a similar age die of an aneurysm while sitting in a chair. One of her children found her. It is a possibility, he said.

Fritz, however, is skeptical of that. Just before leaving on the moose hunt, he said, Schleyer had gone on several sheep hunts, each time hiking tens of miles into and out of the wilderness along the Yukon road system.

If he had some physical problem, Fritz wonders, wouldn't it be more likely to strike him down in the midst of strenuous exercise than while sitting quietly on a dry-bag calling moose?

Still, Fritz isn't sure about any of the animal attack theories.

"Nothing adds up,'' he said. "I have the hat, which has no damage whatsoever.''

He finds it hard to believe animals could kill Schleyer without marking the hat, or that they would leave the dry-bag on which he was sitting undisturbed after killing him.

Likewise for his camp, which was only about a half-mile from where the remains of his body were found. The plastic container that held his food there had not been disturbed.

If a grizzly had been bold enough to kill Schleyer -- a rare event in and of itself -- the bear experts find it hard to believe the same bear wouldn't have gone to check out the hunter's camp. And had the bear checked out the camp, it would almost certainly have gotten into the canned goods. Bears will eat through canned food the way people eat through peanuts.

"None of the possibilities for what might have happened quite make sense with the little bits and pieces we have,'' Hechtel said. "It does seem odd."

He's hoping for more information to clarify the picture.

"It would be nice to know what happened,'' Hechtel said. "He was my friend. He was just a great guy.''

Keith Stockard, 9-year-old Kenny's dad, tells of running into Schleyer at the Alaska State Fair in Palmer one year. Kenny saw him first, Keith said, and went streaking across the fairgrounds.

"Bart greeted the old man, but kept focused on Kenny,'' Keith said. "He then took out his wallet and gave it to Kenny, telling him to look inside. Kenny did just that and found a $10 bill. Bart told him he'd been saving it for him.

"Bart laughed and said a kid should have a good time at the fair. The $10 bill was surely all the money Bart had brought with him. His generosity was one of his greatest gifts.''

That and humility, added Hechtel, who noted Schleyer "lacked the ego of a lot of carnivore biologists.''

"I do know Bart would not want his death to be used to sensationalize the danger of bears,'' Hechtel added.

Many of his friends echoed that. Though Schleyer had hunted bears and sometimes guided bear hunters, he loved and respected the animals in a way that harkened back to the earliest aboriginal hunters on the continent.

"He was just one of the finest people you'd ever expect to meet,'' Hornocker said. "He truly was an incredible individual. The Russians loved him and adored him.''

Hornocker finds it hard to talk about Schleyer. Friends say the older scientist had become like a second father to Schleyer, whose own father was disappointed at his son's wandering ways. He yearned for Schleyer to settle down and live a more traditional lifestyle.

Schleyer did have a Russian girlfriend, Tanya Perova, and they had a son, Artyom Perova. Hechtel said Schleyer had taken the time to spend weeks touring Russia with his son this fall.

"His son is at least old enough to have some good memories,'' Hechtel said. Schleyer will not be forgotten.

Along with that family, he left behind dozens of friends in the scientific and hunting communities all over North America.

"He was one of a kind,'' said Mark Farmer, who went to college with Schleyer in Montana and now studies permafrost in Alaska.

Keith Boggs, an instructor at the University of Alaska Anchorage, remembers tracking radio-collared bears with Schleyer in Yellowstone.

They followed one to its den. The radio-collar it wore was indicating the bear was dead.

When they found the den entrance, Schleyer announced someone had to go in and get the bear.

Boggs said no way.

So Schleyer dove in. He came out, Boggs said, pulling the stinking carcass of the dead bear. Then he put it on his back and packed it thousands of feet up a mountain so it could be necropsied in the laboratory to determine a cause of death.

It was a testament, his friends say, to his physical prowess and his overpowering desire to learn more about how nature works. He had a thirst for knowledge.

Were he alive today, it's not hard to believe Schleyer might be leading an effort to solve the mystery of how exactly he died.

Daily News Outdoor editor Craig Medred can be reached at cmedred@adn.com or 257-4588.